Commercial Painting in Fairview, New Jersey
In the business world, first impressions matter. You can make your business stand out in a positive way when you choose the Fairview commercial painting contractor who can help you put your best for forward. Since 2013, JAF Painting LLC has been painting commercial buildings in Fairview, New Jersey. Businesses have trusted JAF Painting LLC to enhance and protect the exterior and interior of their commercial buildings. Giving your property a facelift doesn't have to be expensive. Give JAF Painting LLC a call for a competitive exterior painting quote and find out how reasonably priced improving the curb appeal of your property can be. Give us a call today for a quote on your next project at (201) 308-2378. When you're looking for a painting company in Fairview you can rely on to get the job done right, JAF Painting LLC has the commercial painters in who deliver.
---
Call for a FREE Quote
---
Fairview Office Painting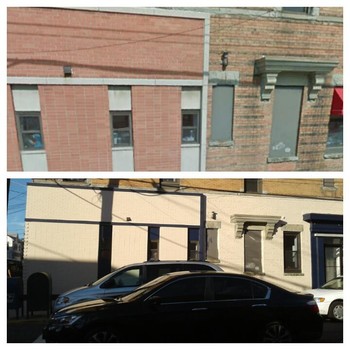 JAF Painting LLC proudly delivers quality results to improve the look of your office or facility, so that looks enticing and feels welcomes your employees and visitors. At the core of each commercial project we undergo is preparation. Our commitment to thorough preparation it what separates us from other commercial painting contractors in Fairview. Steps won't be skipped as we properly care for your property as if it were our own. First, small holes and dings in the walls are patched and drywall imperfections are repaired. Next, surfaces are cleaned, sanded and primed. Finally, the painting begins. We're not done, though, until you are fully satisfied. Our crews work to exceed your expectations. Call (201) 308-2378 to get started.
Some of the industries we serve include:
Medical facilities
Office buildings
Warehouses
Industrial
Schools
Shopping plazas and retail shoppes
Property management companies
Rental properties
Apartment buildings and condos
Gyms and fitness centers
And more! Just call (201) 308-2378 for a free quote.
Let JAF Painting LLC Freshen Your Building Up
Have the walls and common areas of your office building become dull and dated? Let JAF Painting LLC take the "ho hum" from your business with pops of color and a fresh coat of paint on your Fairview office walls. If you notice your walls peeling or bubbling, your customers will too. Our diligent commercial painting team can brighten up your entrance, work areas, and exterior surfaces, making your commercial property look more crisp and fresh.
Are you considering painting the exterior of your Fairview building? JAF Painting LLC will help with providing exterior commercial painting at a reasonable price. We'll help you create a welcoming atmosphere to any building and increase value and curb appeal.
We offer many commercial painting services in Fairview, such as:
Exterior Painting
Interior Painting
Warehouse / Industrial Painting
Drywall Repair
Caulking
Wallpaper Removal
Ceiling Painting
Epoxy Flooring
And more! Just call (201) 308-2378 today.
Respecting Your Business Needs
Do you want to paint your Fairview office building, but are concerned about the hassles and down time involved? As Fairview's Commercial Painter of choice since 2013, it is our mission to keep your business looking it's best without interfering with your business operations. We try to get all work done during your off-hours. When that isn't possible, your responsive painting crews will work discretely around your needs to get the job done with minimal interruptions to your business. Call JAF Painting LLC today for a free commercial painting quote at (201) 308-2378.
---
Call for FREE Commercial Painting Quote
---
WHAT CUSTOMERS ARE SAYING:
5★★★★★ - "Jose did an amazing job painting my kitchen, bathroom and family room. I will definitely hire him again to finish the rest of my house once my construction is done. He is meticulous and his work is impeccable."

Lorraine in Fairview, NJ

2019-10-21

5★★★★★ - "Good communication, nice work"

Carlo in Edgewater, NJ

2022-04-12

5★★★★★ - "Jose and crew came in to repair 20 drywall cracks (created from years of settling in a high-rise building). They did a fine job including a tidy cleanup - at a very reasonable price, very professional. They don't know it yet but I will hire them to come in and paint my condo as well!"

Ray

2022-03-28

5★★★★★ - "Exceptional, professional job. Very happy. We'll be using Jose from this time forward."

John McGovern in Little Ferry, NJ

2022-03-14

5★★★★★ - "Working with JAF Painting was the best experience I have ever had with a painter. They removed a ton of old wallpaper and left my walls looking brand new. Easy to work with, did an amazing job, worked around my busy schedule, and had the job done on time. I will definitely call them again. I would recommend them 100%."

Jeffrey in Jersey City, NJ

2022-02-03

5★★★★★ - "Great experience with JAF Painting! Our newly vacant apartment had excessive wall damage and needed a full paint job from floor to ceiling. Jose was responsive from our first call to the very end of the project. He was always professional and flexible to all my detailed requests. I also had a time constraint and Jose was able to accommodate even during a holiday weekend. Jose and his men are skilled, hard workers and did an amazing job, quickly! The apartment looks brand-new and with no mess left behind! I highly recommend JAF Painting and we will definitely be using them again for our next paint project."

Amy Lafrieda, Interior Painting in Ridgefield, NJ

2021-11-27

5★★★★★ - "Such a wonderful experience! Came on short notice without hesitation and the work was beyond excellent as well!"

Dej C

2021-09-13

5★★★★★ - "I highly recommend JAF Painting. We had water damage and a large hole in our bedroom ceiling. The drywall needed to be replaced and the ceiling painted. My family and I were very impressed with the professionalism displayed by Jose and his team. The ceiling was fixed and painted in record time. As a result, we have a beautiful ceiling. I will be calling JAF Painting again in the future because I know excellent workmanship when I see it."

Mrs Sayre

2021-09-09

5★★★★★ - "I wish there were more than 5 stars to give. Jose and his team did an excellent job on my home. They were always on time and accomplished exactly what needed to be done. The finished product was incredible."

Paul

2021-09-01

5★★★★★ - "Asked them to repair some drywall where there had been water damage. They did an excellent job and went above what I pointed out. I ended up having them also paint all the ceilings where the work was done. Could not be happier. On-time, on schedule. Wish everyone was as diligent. Highly recommend them."

Anna-Marie

2021-08-18

5★★★★★ - "They were on time and very professional. Made my home look beautiful. I cannot recommend them enough."

Paul

2021-05-10

5★★★★★ - "José and his team did a fabulous painting job in our apartment, and my husband and I couldn't be happier. To begin with, he showed up promptly to take a look at the job and to provide an estimate. (We had called other contractors before who, either never showed up or never bothered to submit an estimate after coming to the apartment.) He then scheduled the job and showed up on time on the agreed-upon date and for the duration of the assignment. He and his crew are very professional, responsible, meticulous, and clean up at the end.
I will certainly call them again when in need of José's services and would not hesitate to recommend them."

Lina B., Interior Painting in Guttenberg, NJ

2021-03-19

5★★★★★ - "I recently moved into Guttenberg NJ from Manhattan. I just purchased a newly remodeled condo that was freshly painted. I'm not a fan of flat finishes or living in a home that's painted white. I love color and decided to hire someone to repaint my apartment. I googled "interior painters in Guttenberg" and JAF Painting, LLC was on the top of the list. I checked out their website and was very impressed with the work the company had provided. There's a ton of beautiful photos of the jobs they have done. I read all of their reviews, too. It's a 5-star company and every review was complimentary. There wasn't one negative review or comment. I decided to call and get an estimate. The price was right for the amount of work. I wanted each room to be a different color and the baseboards an additional color. On their first day, they come in and carefully prepped the whole apartment. My new floors and countertops all protected. And then they started to paint. Jose and his team finished the job a day and a half earlier than expected. They did a very good job, and I really love my new home now. Don't waste your time thinking about who to hire. Give them a call for an estimate. If you're looking to hire a company that knows their craft and does their work very professionally, give JAF Painting a call. You won't be sorry."

Simeon Kano Guss in Guttenberg, NJ

2021-02-22

5★★★★★ - "Jose and his team were exceptional, hard-working, efficient, and clean. Highly recommend him as he's thorough and fair and does great work."

Paula in Waldwick, NJ

2021-02-17

5★★★★★ - "Hired Jose to remove wallpaper and foam wood logs glued to the ceilings of the living, dining rooms, and kitchen. The apartment wasn't painted since 1983. Jose and his team did a tremendous job removing the wallpaper, sanding, priming, and painting. A truly professional job! I would highly recommend hiring JAF Painting."

J McG in Jersey City, NJ

2021-02-15

5★★★★★ - "5★★★★★ - "5 Stars all the way! I would highly recommend JAF Painting and plan on using them again! Jose was a total pro and his results were Beautiful! Thank you again !!! Chris and Diana" 2019-03-04"

Anonymous, Painting Contractor

2019-03-04

5★★★★★ - "Great painting company with excellent painting skills. They did a great job on the exterior of our day care center...Jose and Francisco and all the staff members are very experienced and knowledgable I highly recommend JAF Painting LLC."

Mercedes D., Exterior Painting in North Bergen, NJ

2018-03-19

5★★★★★ - "I have had JAF painting do several projects for me. Their estimate was fair, work superior and all the workers had a positive and professional attitude. When finished, they vacuumed, mopped the floors and made sure all was done properly. I will book them for additional jobs and highly recommend this company to any one who wants excellent work."

B. Perl

2014-04-15

5★★★★★ - "Outstanding work!!! Very neat and looks brand new. I would recommend them to all my family and friends!!! Keep up the great work."

Elyse

2014-03-31

5★★★★★ - "Thank you so much for the great job you did on repainting my kitchen cabinets. They look amazing! Great job, hard-working polite workers. Went beyond scope of work to make it look even better! My wife and I really appreciate it!"

Ante & Jen in Ridgefield, NJ

2013-11-12
---
Call for FREE Commercial Painting Quote
---